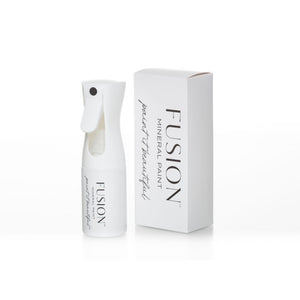 Super fine continuous mister makes getting a super smooth finish and colour blending with Fusion a breeze! The trick is to not add too much water, a little goes a very long way.
Our paints use mineral pigments, adding too much water can give you pigmentation streaks.
It can also be used to dampen your brushes and rollers while painting to increase paint flow as it is a little bit easier with an ever so slightly dampened brush or roller.
The Fusion mister could also be used as a vessel for your TSP Alternative and water, be prep ready for your next project with a Fusion Mineral Paint water mister.
Be sure to label your mister with the content inside. Always test your methods prior to tackling your project!