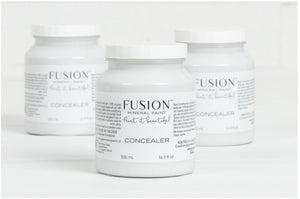 Concealer/ transition is half the cost of the paint because it is made of 100% recycled pigment. It's a neutral light grey and since each batch is unique, tints will naturally vary with production. Concealer is made out of recycled pigment from our water treatment facility.
Use Concealer as a base coat when changing from a dark colour to a light colour. For example, a dark chocolate wood going to an off-white could take up to 3 coats of white for excellent coverage. Not with our specially formulated Concealer though. Simply apply one coat of Concealer and one to two coats of Fusion™ paint in a light colour should be all you'd need! Darker colours that are not your basic off whites do not require th Concealer.
Concealer is not to be confused as a primer, it is made up of the same quality as the paint, yet as it is recycled offers an inexpensive quick colour change option! Also, colour blocker is not a stain or resin blocker. Be sure to use a Zinser based primer for particularly difficult bleed through concerns.