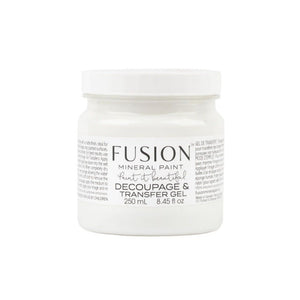 Try our Decoupage & Transfer Gel for incredible decor ideas! Create beautiful decoupage or transfer images onto virtually any surface. This two-in-one product is easy to use and allows for some beautiful effects.
Image Transfer:
Be sure to use a laser printer, ink jet will not work well. Be sure to print your image backwards. To transfer an image simply apply the Decoupage and Transfer Gel to the surface and place your print face down. Apply pressure with a putty knife or credit card to ensure contact and remove any bubbles. After 24hrs or so you can wet the back and start rubbing away the paper pulp.
You can add wax or another layer of the Decoupage and Transfer gel for protection.
Decoupage:
Using our Decoupage Gel apply it to the surface and or the back of the image or tissue/decoupage paper and stick in place you can place cling wrap over the image to smooth out any wrinkles or bubbles.
When dry you can add another coat of the Decoupage and Transfer gel to seal and as protection or any of the other Fusion finishes.
DID YOU KNOW?
The gel can be used for image transfer and decoupage

You can use it to seal your project too.

Can be used on Glass, Metal, Fabric and wooden or painted surfaces.
WHAT WILL IT LOOK LIKE?
Decoupage and Transfer gel is white but dries to a clear matte film.
 
CURE TIME
For Decoupage 2-6hrs for dry time and 21 days for cure time.
For Transfers – you will want to wait a minimum of 12-24 hours before wetting the paper and trying to complete the transfer.
 
WHAT ELSE CAN IT BE USED FOR?
It can be used as a topcoat over your decoupage or transfer projects. It would be a great topcoat for crafting too.
As with all Fusions water based products it can be layered! So you can add a glaze or a topcoat no problem!