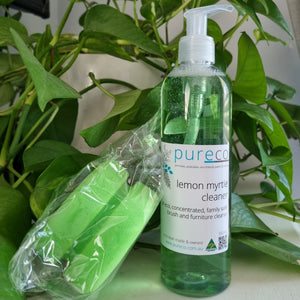 Lemon Myrtle Cleaner for brushes and furniture.
* Liquid all natural, eco concentrate soap.
* Toxin & sensitiser free.
* Palm Oil & Phosphate free.
* Perfect for cleaning paint & wax brushes.
- For brush cleaning -
- Rinse out any excess paint. use 1/2 pump into wet hand & scrub
brush in circular motion. rinse well.
- For furniture -
* Use 1 to 2 pumps into warm water in a bucket, bowl or spray bottle, wipe piece with soft damp cloth. wipe off residue with a clean damp cloth. wipe dry with clean lint free cloth after. ensure piece is fully dry before painting.
* re-use or recycle container once empty.
* grey water & septic safe.