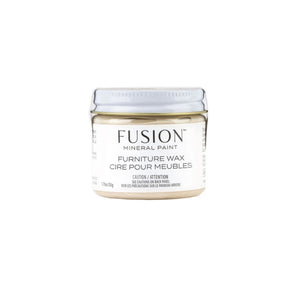 A fine museum quality wax, based on an old family recipe, goes on like butter. It is soft and smooth. Easy to apply, it provides a durable finish with a beautiful lustre and has almost no odour.
How to use
Step 1 : Let the product sit for maybe a minute or so. The longer the wax sits on the surface, the more the pigment will soak in and "stain" your piece. For clear wax, let sit for about 5 minutes so that you get better adhesion.
Step 2: Wax Off! Time to remove some your wax from your painted piece.
To buff the wax, use your lint-free cloth. Bunch it up in your hand like a nice soft pillow, making sure to leave a smooth side where you will be buffing the wax. Rub the cloth onto your piece in small circles – start with light pressure. Remember that you are buffing and not removing – it is more like encouraging the wax to smooth out and harden, rather than wiping it off. The wax will go from buttery, to tacky, to smooth and that's when you know you've properly buffed.